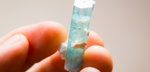 Aquamarine
Aquamarine calms the brain to promote greater clarity about specific issues and overcome challenges.  Helps us to know our inner calling and helps promote intuition.  It strengthens the throat chakra function and helps protect the aura for people who lack courage and will.  This stone nourishes the body's Yin which addresses female hormonal imbalances.  
Cleansing and Charging
Cleanse every other day in running water.  Charge in sunlight for one to two hours or in a quartz crystal.  It requires daily charging.