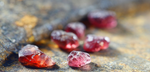 Garnet
Red garnet strengthens the root and heart chakra functions.  It's for someone who struggles between the desire for interaction (Heart) and being either self-absorbed or unable to take care of the self (Kidney).  It helps boost our character and willpower to manage the difficulties in our lives.  It is also protective against negativity from other people and promotes the virtue of devotion by nurturing our Yang Qi (energy) toward perseverance.  Garnet returns us to our childlike state and cultivates our innocence by helping us accept all possibilities.  Take garnet on a retreat to support self-reflection.  Alternatively, it's also for someone who doesn't like crowds.  Take it to a party to stay grounded.
Cleansing and Charging
Cleanse in running water and recharge on a quartz crystal or hematite.
January Birthstone