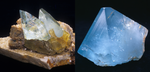 Topaz
Topaz is a stone that addresses the Liver which in Chinese Medicine is responsible for the smooth flow of energy or Qi in the body.  Stagnant Liver Qi contributes to stress, chronic excessive overthinking, frustration, resentment, and angry outbursts.  Topaz helps regulate the Liver Qi.  Helps someone who is preoccupied with things are non consequential.  It helps strengthen the throat chakra.
Cleansing and Charging
Cleanse in running water after each use.  Charge in the sun.