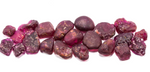 Ruby
Ruby is a powerful crystal for stubborn, headstrong people. It's hardness allows it to work slowly on deep issues while also hastening decision making. Brilliant and strong, ruby can support us during hard times or when we're under pressure, relieving fatigue and lack of faith. 
Cleansing and Charging
Cleanse once a month under running water.  Let it dry for a short time in the sun or place with a crystal.