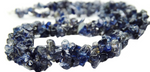 Iolite
Iolite is a stone that helps alleviate festering thoughts that lead to exhaustion.  For someone who has the tendency towards an inability to forgive.  It's a cooling stone and wearing it as a necklace helps cool the chest region.  
Cleansing and Charging
Cleanse in running water once a month.  Recharge in quartz crystal.
Sorry, there are no products matching your search