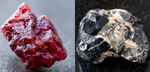 Spinel
Spinel can be our anchor as we resolve trauma and heal our inner child. Grounding and calming, Spinel supports us while we heal trauma that left us with low self-esteem, lack of motivation, and feelings of emptiness. By  establishing heart and kidney communication, this crystal calms the mind. Spinel eases delivery for mothers in labor and offers support to people with congenital issues. 
Cleansing and Charging
Cleanse once a month under running water.  Let it dry for a short time in the sun, or place with a crystal.